Furniture Trends for 2023: 5+ Latest Designs That Will Be Huge This Year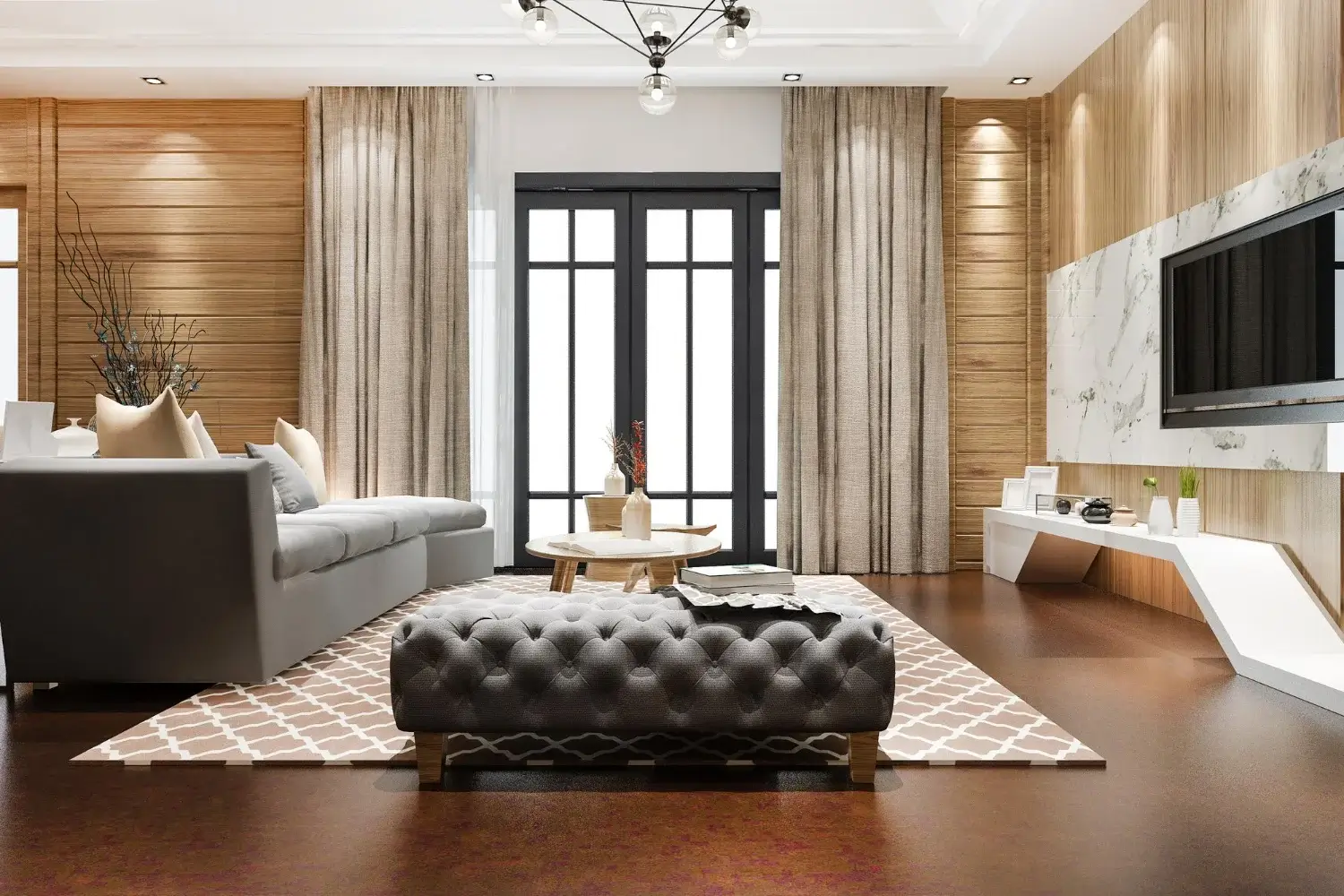 From accent chairs to oversized sofa designs to bedroom nooks, everything makes a style statement. New furniture always enhances the looks of your place. It refreshes the interiors of the home even within your budget. So, if you are redecorating your home interiors or looking forward to starting from scratch, it is necessary to know about the latest and new trends.
Therefore, to help you in all possible ways, here our
home interior designers in Bangalore
have curated the top furniture trends for 2023.
Furniture Design Trends to Follow in 2023
While people want a timeless and classy design for their homes, it is also good to get a furniture setup trending to change the vibe of the space. Whether you buy a side table or sofa, it is about intriguing new furniture trends in your home. Scroll down and read further to know the top 2023 furniture setup ideas added by our interior design experts.
1. Wooden Furniture
We are seeing a lot of people shifting to neutral tones and palettes for their furniture color, which means we will see wooden furniture as the new trend for 2023. Wood has always been the favorite material of many interior designers. So, if you want to give a warm touch and Zen feeling to your bedroom or living area, use a wooden bed frame.
Not only home, but wooden furniture is also perfect for home offices that capture all negative emotions throughout the day. Have a wooden study table, desk, and bookcase in your office space to work smoothly.
2. Comfortable Seating
A sofa is one of the trendiest pieces of furniture that plays an essential role in the interiors of your home. It is used to socialize and relax with your loved ones, straight design and lines are uninviting and out of fashion. So, this year, to avoid this, add curves to the sofa design. A rounded sofa with curves will lift and soften the entire appearance of the room.
Other than curved furniture, armchairs are also trending in 2023. It gives a soft touch to your living area. So, adding an armchair of light shade colors such as white and cream will make the place look functional yet stylish.
3. Biophilic Design in Furniture
Biophilic design is an approach used by architects to connect the people living in a building to nature. The buildings designed using Biophilic design use natural landscapes, natural lightning, ventilation, and other things to deliver a productive environment. This lets interior design experts believe that natural materials offer a different type of multi-sensory experience to people.
So, furniture designs created from less processed materials are a hit, people will have beautiful landscape-inspired art for their homes, and see earthy tones as the latest furniture colors and shapes that provide sustainability. Also, furniture made from wicker and cane will be used more.
4. Foldable Furniture
Space is given priority in 2023 design trends that have made foldable furniture popular. It is a space-saving option where you can make your place more spacious and free-flowing. There are various foldable furniture designs such as multipurpose sofa cum beds or wall-hanging desk tables that can be used in homes to add good storage space.
Also, for outdoor furniture trends, foldable wooden chairs can be used to sit and relax in your garden area. They can also be used both indoors and outdoors easily.
5. Vintage-Inspired Aesthetics
For people who love traditional styles more than modern ones, this 2023 furniture design trend is perfect for you. And, also there is no worry to ask your grandparents or parents for their antique style furniture. These new furniture design trends will let you design furniture that looks antique. The mid-century designs are becoming popular with retro-styled furniture designs available in the market.
For instance- You can keep a vintage armchair in the living area to give a cozy and retro vibe and is an elegant furniture design that can be used in all home interior styles.
6. Sustainability
The
interior designers in Bangalore
as well as the customers are continuing to go green. So, it is again a popular furniture trend in 2023 to have furniture made from sustainable and eco-friendly materials. The furniture designed with natural wood will be chosen by people as they want products that impact less on the environment.
There is also more emphasis on simple and sleek designs with clean lines and muted tones that gives a calming vibe to your home.
Wrapping Up
If you are not afraid of experimenting, then these are some of the best choices to upgrade to new furniture in 2023 and change your home interiors. Several unique and eye-catchy furniture pieces can become a focal point in your home. Follow these trends and make your home look appealing and trendy in 2023.