How to Use Smart Technology to Design Your Modular Kitchen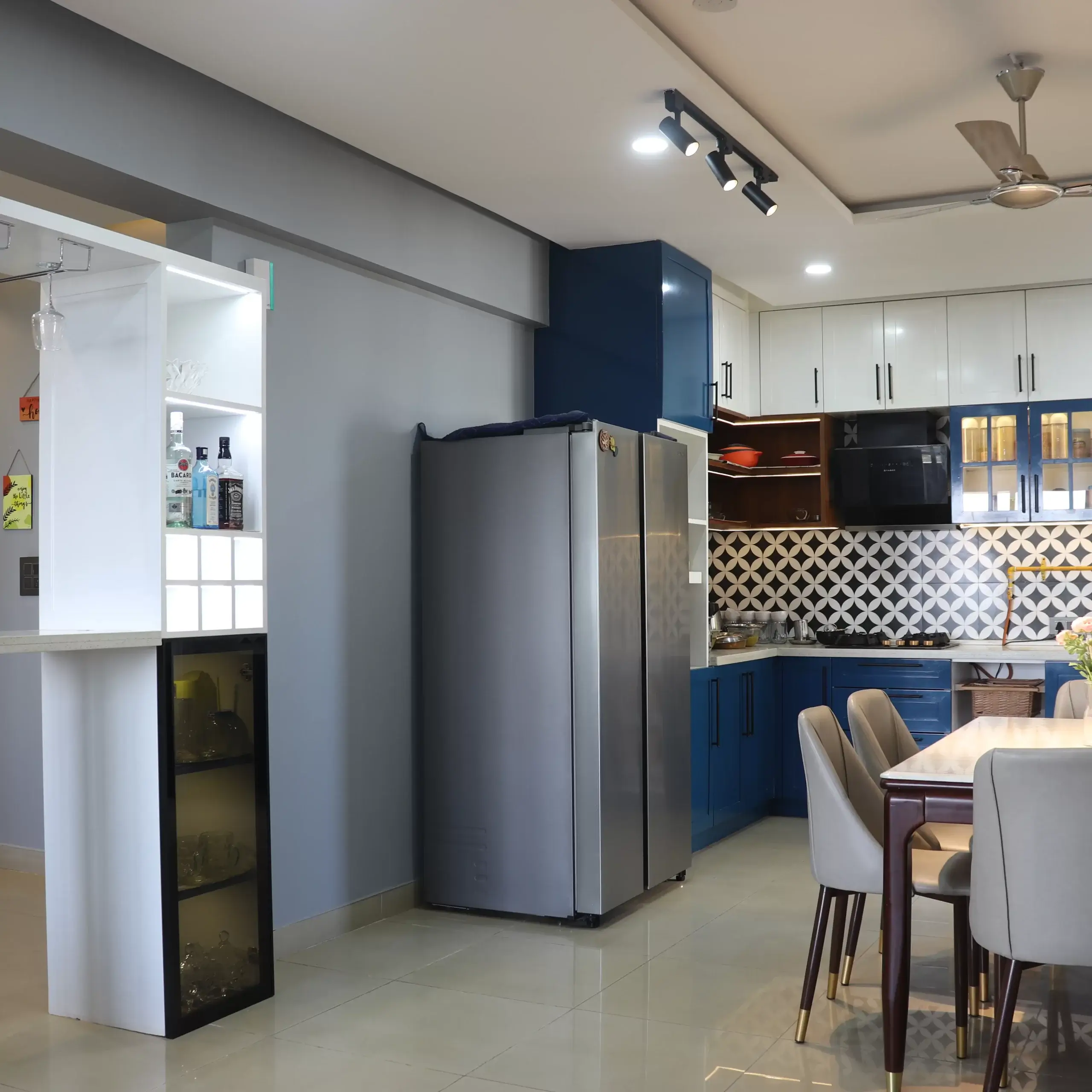 Modular kitchen or smart kitchen is reining the market and has become the need of the hour because of its durability and efficiency. A modular kitchen is created with a mix of safe and functional cooking features to make life easier in Indian homes where food is always home cooked. What if we tell you there are several ways to make your simple kitchen into a smart one? Yes, in the market of technological revolutions, you can now upgrade your kitchen into a future-ready modular space. 
Here are some best ways curated by our
kitchen interior designers in Bangalore
to consider when you wish to add smart technology into your kitchen.
1. Green Kitchen Smart Technology
Have you ever thought how great it would be to pick fresh and green vegetables from your kitchen garden? So, if your home does not have space to set up a full-fledged garden area, then you can use a corner of your kitchen into an indoor garden. Use smart planter boxes to ensure that the plants are auto-watered and add LED lights that switch on after sunset. The green herbs grown in the kitchen garden will provide freshness to your tasty food. 
2. Smart and Simple Kitchen Cupboards 
Handleless cupboards and drawers are the best choice to incorporate smart elements into your kitchen. The creative minds of our professional interior designers who want to keep everything functional and minimal in your kitchen, a handless kitchen is smooth and perfect for them. Rather than adding hard-to-clean and huge handles, add drawers and cupboards with push-to-open and groove features in your smart kitchen. 
3. New Smart Kitchen Fridge 
Refrigerators are one of the necessary elements in a kitchen in today's time as they do more than just preserve food, vegetables and other items. We are seeing new technologies emerging in the market designed to meet your needs effectively. Get a smart-touch refrigerator for your kitchen that helps you read out recipes from YouTube, play music to set the groove when you cook, and offer you huge space to keep food inside. And, if you are still wondering what more it can do, then it can also turn into a freezer according to your needs.
4. Aesthetic Shelf Lights
In today's modern world, smart kitchen technology has extended more than just the appliances to lean towards aesthetics. There is one more way to make your kitchen look elegant is installing warm yellow LED light strips under the kitchen shelves. The dim glow of the lights will give a luxurious feel to your kitchen, making night food sneaking easy. And, as these lights are placed under the cabinets, there will be no hassle of messy wires sticking with each other. 
5. Latest Tablet Cooktops
Tablet Cooktops is one of the biggest smart kitchen technologies gaining popularity in the Indian market. As its name suggests, you will get a cook top design in an attractive tablet-like surface that serves both the purpose of a stove and a table. When you place a pot on the cooktop's surface, a heat is generated and cools off when the cooking is done. So, it is the time to move over the traditional style of cooking with stove tops as this next-gen interactive innovation is here. 
6. Customized Kitchen Gadgets Space 
One of the most necessary things for a modular kitchen is their ability to provide an organized and spacious look. Modern kitchen setup with a personalized gadget garage will save a lot of space and also provides a smart and tech-savvy design to the space. We have seen various apartments that choose this type of storage space to set up their
modular kitchen design in Bangalore
and other cities. 
The Last Lines
If you are still cooking around your traditional kitchen setup, then this is the time to make the right shift to a modern yet sleek kitchen design. But, before you start installing smart kitchen technology, switch to a modular kitchen that will equip your home with innovative power. So, without any delay, get the best smart modular kitchen designs at Bhavana Interiors and Decorators that also matches your budget and preferences.